For more than 50 years we have been supplying Aromatic Chemicals, Essential Oils and Natural Extracts to all customers around the world. Sima Arôme has now expanded its activities by building a state of the art manufacturing facility in Pandaan, Indonesia with high-tech machinery and technology from France. This new facility is able to produce superior quality Aromatic Chemicals, Essential Oils, Natural Extract Products as well as Natural Fruit Powders.
Our specialist team of Production, Quality Control and R&D have over 30 years experience in this field. With the combination of latest technology from France, our team of specialists, as well as through the sharing of knowledge across our international networks, we can produce different types of quality to suit our customer's demand.
VISION & MISSION
Vision
To be the global leader in the field of Natural Extracts, Essential Oils and Aromatic Chemicals industry through constant innovation and continuous dedication to exceptional quality products.
Mission
To make the cleanest, safest, most consistent, premium quality products at the lowest cost possible so that we can spread the goodness of natural products.
To cultivate personal partnerships with worldwide distributors/customers by providing all natural, value added ingredients.
To support collaborative Research and Development in order to unleash new invention and innovation.
Our Machinery
Rectification Machine
We produce Rectified Clove leaf Oil. Our machinery's technology from France allows us to produce a high quality standard for this type of oil. This technology is the first of its kind in the world which can only be found at Sima Arôme. Our specific way of processing will give you better natural products.
Our Rectified Clove Leaf Oil comes with a quality of 85%, 90%, 95% and 99%. All variants are depending on our customer's request. The reactor machine also produces Eugenol USP, ISO Eugenol, Isoeugenyl Acetate, Methyl Eugenol, Benzyl Iso Eugenol, Caryophyllene, Caryophyllene Acetate, and Clove Terpenes.
Distillation Machine
Our distillation machines are also from France. The technology behind these machines is to use steam from the boiler in order to produce high concentrated products. It does not utilise water vapor which may be used by some other machines.
Our natural oils are produced from leaves, buds, flowers, seeds or barks. Our available products are Benzoin, Cassia, Star Anise, Cinnamon, Ginger, Clove, Garlic, Onion, Nutmeg, Patchouli, Vetiver and Eucalyptus Oil.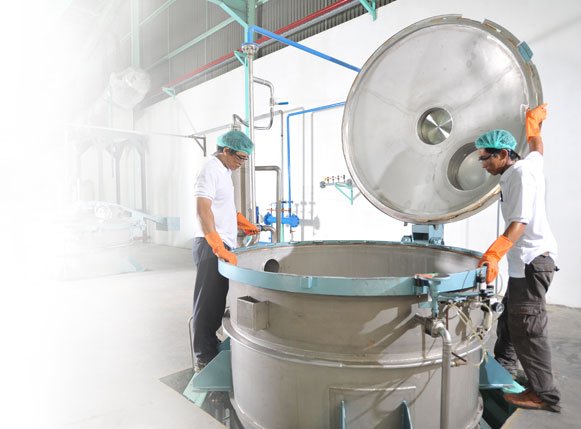 Extraction Machine
Our extraction machine is of the latest generation extractor from France which can produce food extracts with the highest possible quality standard.
We produce natural extract products derived from fruits, black pepper, white pepper, capsicum, clove, cocoa, coffee, ginger, galangal, paprika, tamarind, tea and vanilla.
Spray Dryer
We also produce all kind of high quality natural extract powders for the food and beverage industry according to our customer's demand.
Powder products derived from this process are natural fruits, Tea, Ginger, Cocoa, Coffee and many others. Our spray-drying process encompasses of double encapsulated natural extract powder creation that involves the art of formulation with sophisticated extraction and drying technology.